In July of 2018, I was able to use the LEOMO Type-R with one of the elite triathletes that I coach who was forced to change bikes right before a series of major events ending with a world championship competition in early September. The client is Taylor Knibb, the 2016 and 2017 ITU Junior World Champion in the draft-legal format of triathlon. Taylor has also been on the podium at WTS events in the elite field and is currently ranked 16th in the world and 11th in the Olympic rankings aiming toward Tokyo 2020. She is a very strong competitor in all disciplines of triathlon, though the bike has often been her strongest of the three sports.
Tuesday July 17, 2018:
A Crisis
Upon returning from a nearly 2-week European racing campaign, Taylor flew to Colorado to train for 2-weeks leading into the WTS Edmonton triathlon – a sprint distance triathlon consisting of a 750M open water swim, 20km draft legal bike course with 7 laps of a 3-km circuit which included a significant climb each lap, finishing with a 5Km run. Taylor arrived in Boulder late Monday evening, and on Tuesday was competing in a local criterium where she had attacked with one other rider at 2-laps to go.
On the final lap, Taylor had dropped the other rider going into the final 500M. As she went to stand up for a final sprint, her bike skipped gears and she hit the ground at 45km/hour. Fortunately, Taylor didn't suffer any fractures though she did have some abrasions and contusions. Her helmet also did its job properly protecting her head from any serious trauma. Note: Always wear your helmet!
So, what does all this have to do with the LEOMO Type-R you ask? Well, Taylor's bike had a small fracture on the right chainstay after her travel. This caused the gears to slip. So – another cautionary tale – check your bike thoroughly after any travel where your bike is packed up and shipped.  The other reason this is relevant to the Type-R is that Taylor was riding with the Type-R during the race. Fortunately, we were able to capture all of her data – the Type R was fortunately not broken during the crash.
The reason the Type-R became so valuable is that 1. Taylor needed a new bike, and we wanted to match her position on the new bike, 2. We used the opportunity of switching bikes to also change the pedal system that she was using, and 3. I wanted to see if her pedaling mechanics after just 1-week of healing would allow her to be able to race effectively in Edmonton just 10-days after the crash.
---
Wednesday July 18, 2018:
Using Motion To Install New Pedals.
While I did have LEOMO Type-R data from the actual race where she crashed on Tuesday, I did want to put Taylor's broken bike on a stationary trainer first to be able to capture her position using her old pedal system and then switch to the new pedals and cleats on the broken bike to make sure that we first had a good position match which we can see using the Compare feature on the LEOMO Dashboard and comparing her Foot and Leg AR as well as Pelvic MPIs.
Interestingly, we found that using the new pedal system resulted in a decreased DSS at a similar intensity compared to the old pedal system.
Next, I wanted to have a good record of Taylor riding the new pedals at a similar intensity in our biomechanics lab it compare to a similar power and duration from her outdoor riding movement data from the criterium race.
Below is the motion comparison between pedals at similar intensity:
---
Thursday 19, 2018:
New Bike Adjustments
The next goal was to get Taylor on a demo bike to ensure that it would be the proper size for her before ordering her new frame. Fortunately, Colorado Multisport was able to help us get a new demo bike from the Specialized Demo center in Boulder for Taylor to test out for a few days. Once we received the demo bike, we put the same saddle that she was riding, the new pedals, and were able to match up the general fit coordinates of her old bike.
Since the new bike had slightly different geometry, we had a couple of small variations from her old bike but no measurement was more than 2-3mm different. One of the reasons that we chose the new bike was that with Taylor's fit coordinates, she was able to move from a 70mm? stem on the old bike to a 90mm stem on the new bike which resulted in improved handling, especially in technical cornering as well as better overall balance and tracking of the new bike.
---
Friday July 20, 2018:
Using The LEOMO To Mirror Bike Fit
After we confirmed that the LEOMO Type-R MPI data was very similar on the demo bike to what her data looked like on her old bike, we ordered the new frame to be able to build up a new bike. Again, Colorado Multisport came through and were able to have the frame delivered on the next day on Saturday, and then our friends at Boulder Bicycle Works, next door to our APEX Coaching headquarters, were able to build up the bike on Sunday so that it was ready to go on Monday for a test ride.
This was all kind of stressful, since Taylor was flying to Edmonton on Wednesday for a Friday race. As you can see, we had a fairly limited time-frame to pull together a lot of moving parts, and ensure that Taylor had a new bike built and in the proper position for her to race one of her remaining 3 major races of the year. The LEOMO Type-R was invaluable in helping us achieve these goals quickly and objectively from the fit and position standpoint.
Monday July 23, 2018:
New Bike Verification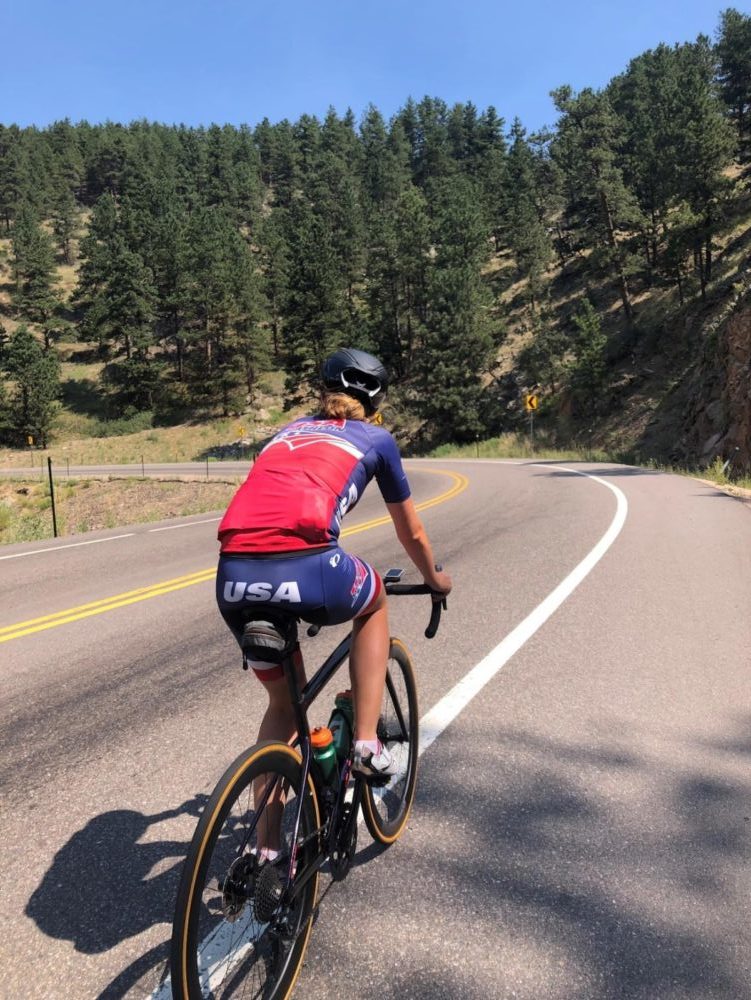 We received Taylor's new bike in the early afternoon and first had her do a quick ride in the APEX Coaching hub with the Type-R to make sure that we got everything matched up. Fortunately because of having use of the demo bike for a few days, we were able to get all of the measurements transferred to the new bike and get it built up to spec with just a few millimeters of adjustment needed here and there to ensure that the new bike was all set-up and ready to race.
Tuesday July 24, 2018:
Using LEOMO Type R To Confirm Motion At Intensity
A short interval session on Tuesday confirmed that Taylor's MPIs didn't indicate any altered motion as a result of the crash just a week prior, and that her power generating capacity was very good and ready to compete on Friday.
Friday July 27, 2018:
SUCCESS!
At the Edmonton WTS race, Taylor had the fastest bike split and finished in 12-place. This was her best WTS performance of 2018 at that time, and a clear indication that things were moving in the right direction. Just 3-weeks later Taylor competed at the Lausanne Switzerland ITU World Cup, where she finished 2nd to the 2012 Olympic Triathlon Gold Medalist (and 2016 Silver medalist), and followed it up the following weekend with a 7-place finish at the Montreal WTS event.
Taylor's final triathlon of the 2018 season was the ITU U23 World Championship even in Gold Coast, Australia. Taylor exited the water in 3rd place. She got on the bike and rode an incredible solo 40-km effort where she put nearly 3-minutes into the chasing a pack of 12 athletes behind her. She ran the 4th fastest 10km of the day, and held on for an over 1-minute victory and world championship title. That was the 4th race in a row where Taylor had the fastest bike split.
Continuing this feat, Taylor once again set the fastest bike split at the March 2019 Abu Dhabi WTS Triathlon where she finished 4th overall. As a coach, I'm very thankful to have the LEOMO Type-R to be able to help athletes like Taylor achieve their sporting goals. Being a data informed coach using LEOMO technology is a major partner in helping all of our athletes at APEX Coaching compete with confidence.

---